2022 Amazonas Green Jazz Festival
The
Seattle Wind Symphony
performed my composition "The River of Doubt" in a wonderful concert that included works by Percy Grainger and Leonard Bernstein. Special guest artists included Steve Mostovoy (trumpet) and Jovino Santos Neto (piano). The concert was conducted by Maestro Larry Gookin. I'm looking forward to writing new music for them for a performance in 2016.
April 2015
I'm looking forward to two composer-in-residence gigs this spring. In May I will be in residence at the Visby International Centre for Composers on the island of Gotland in Sweden. Then I will spend the month of June in Chelva, a small midieval village in Eastern Spain. After the residencies I will travel to Lisbon for the International Association of Schools of Jazz annual meeting, returning to Seattle in early July with new music to rehearse and perform!
In
March 2015
I toured Brazil. The tour  included rehearsals and a concert of my compositions in Rio de Janeiro with the Universidade Federal do Rio de Janeiro Jazz Band under the direction of Jose Rua. In addition I visited UNICAMP in Campinas where I rehearsed with the big band, offered a workshop and presented a concert. See tour photos here:
Brazil 2015
When: October 26, 2014 : 8pm
Where: the Plestcheeff Auditorium at Seattle Art Museum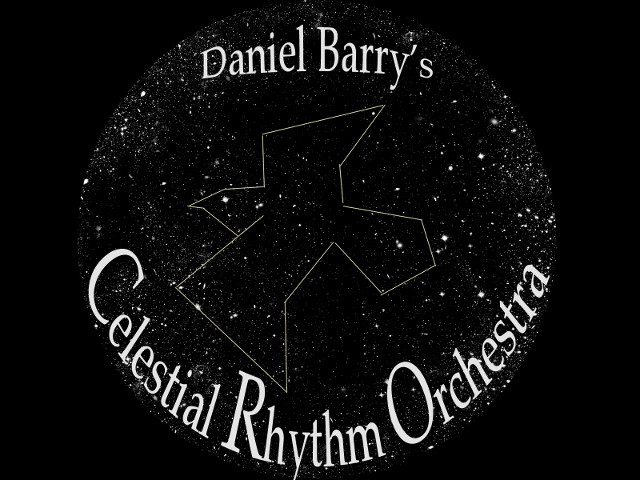 Daniel Barry's Celestial Rhythm Orchestra will debut as part of the 2014  Earshot Jazz Festival. CRO combines colorful orchestral writing with the free-blowing spirit of jazz, all grounded in rhythmic structures from Africa, Cuba, Brazil, Peru, Romania and beyond.
The 20-piece orchestra is Daniel Barry (composer/conductor);
Steve Treseler
,
Gordon Brown
,
Mark Taylor
,
Paul Gillespie
,
James DeJoie
(saxophones);
Steve Mostovoy, Mike Mines, Al Keith, Thomas Marriott
(trumpets);
Scott Brown, Naomi Siegel, Nathan Vetter, Dave Bentley
(trombones);
Dennis Rea
(guitar);
Jovino Santos Neto
(piano);
Chris Symer
(bass);
Greg Campbell
(drums);
Ben Thomas
and
Chris Monroe
(percussion).
"During the last 5 years I've been honored to conduct performances of my jazz orchestra compositions in Iceland, Norway, Peru,Brazil and Denver. I am really  looking forward to sharing this work so much closer to home, and with such an elite roster of musicians! We will present the world premeire performance of my composition the "Lovely Silver Goddess" alongside pieces written over the last two decades. A nice mix of old, recent and brand spanking new."
Daniel Barry
Thanks to the Fulbright Foundation, 4Culture, Artist Trust and Earshot Jazz.
Washington State University Concert
On October 7th I was guest composer and trumpeter with the Washington State University Big Band. Under the direction of Greg Yasinitsky this ensemble is really top notch, loaded with fine soloists and thoughtful ensemble players. It was a pleasure to receive a standing ovation from the lovely audience in Pullman, Washington! We also premiered Greg's piece Serpentine. Wonderful music.
Artist Trust Fellowship 2014
This merit based award will allow me to accomplish some artistic dreams that have been on the back burner. I'm deeply honored and looking forward to creating new music and developing relationships with new performers.

Composer in Residence at the Visby International Centre for Composers
This residency will begin in May, 2015
4Culture Grant
2013
This award will help me to debut  the Celestial Rhythm Orchestra in a concert of my compositions as part of the 2014 Earshot Jazz Festival.
Return from Brazil
On May 29, 2012 I returned to Seattle after 3 months in Brazil as a Fulbright Scholar / Composer-in-Residence at Unicamp in Sao Paulo. While in Brazil I made wonderful new friends, performed with dozens of fantastic musicians, learned to dance (sort of), studied the pandeiro, and enjoyed lots of sunshne. At Unicamp I directed a jazz orchestra and two jazz combos. We performed the music of Duke Ellington, Charles Mingus, and my own pieces. I conducted performances of my compositions in Tatui, Diadema, Rio de Janeiro and Campinas. I was also able to travel to Northeastern Brazil for the first time and spent very memorable days in Recife, Olinda and Porto da Galinhas.
When I wasn't traveling or performing I was writing and I have a brand new project that I will launch in Seattle towards the end of the summer. Photos of my experience in Brazil can be found
here.